You are viewing the article What is VietGAP standard and safe vegetable production process?  at Cfis.edu.vn you can quickly access the necessary information in the table of contents of the article below.
What is VietGAP?
VietGAP stands for Vietnamese Good Agricultural Practices which means Good Agricultural Practices in Vietnam based on 4 criteria as follows:
– Standards on production techniques : specific regulations on production techniques from the selection of soil, varieties, fertilizers to harvesting in accordance with specific regulations for each field of cultivation, husbandry and aquaculture.
– Food safety: Includes measures to ensure no chemical contamination or physical contamination at harvest.
– Working environment: The purpose is to prevent the abuse of labor by farmers.
– Product traceability: This standard allows to identify problems from production to consumption of products.
It can be understood that, products that meet VietGAP standards are good quality products, ensure food safety and hygiene, do not use chemicals or substances that are toxic to the human body and the environment. are produced and harvested according to the correct process, with a clear source of traceability information for the product.
VietGAP standards for safe vegetable products
For the group of vegetable products that have obtained VietGAP certification, the Ministry of Agriculture and Rural Development has set specific standards, requiring production units to ensure that they can be granted VietGAP certificates:
Choose the land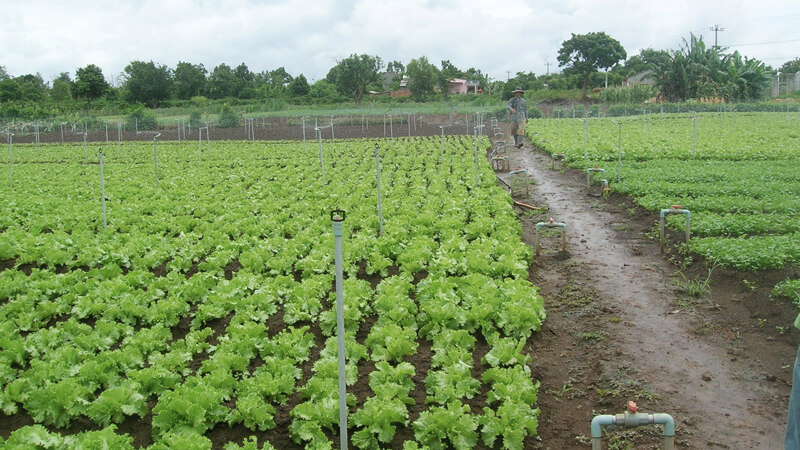 Choose the land
– The soil for growing vegetables must be high soil, easy to drain, suitable for the growth and development process of each type of vegetable.
– Not affected by factors that cause product pollution such as smoke, dust, waste, toxic chemicals from transportation activities, industry, handicrafts and craft villages, residential areas. residences, hospitals, breeding grounds, slaughterhouses, cemeteries.
– The vegetable growing area must be isolated from areas with heavy industrial and hospital waste at least 2 km and from the city's domestic waste at least 200m.
– No residue of harmful chemicals.
– The concentration of heavy metals in the soil must not exceed the prescribed limit.
Irrigation water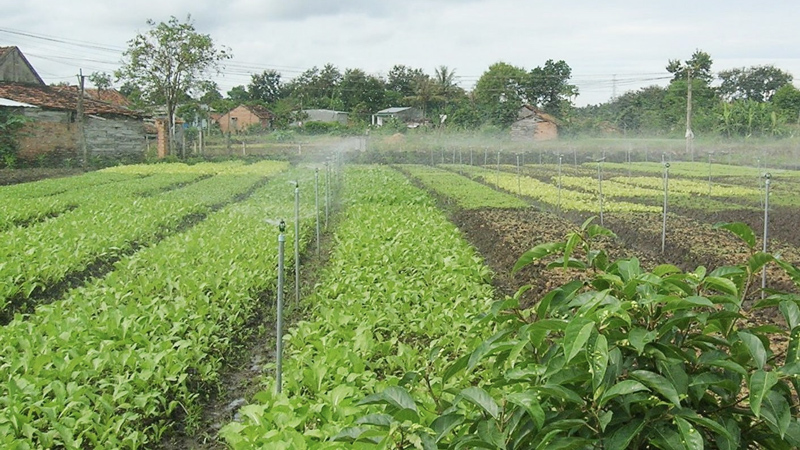 Because water in green vegetables contains more than 90%, watering has a direct effect on product quality.
– Use well water or unpolluted river, pond or lake water for irrigation, ensuring safety and hygiene.
– Use clean water to mix fertilizers and pesticides.
– The types of coriander and lettuce need to use well water.
Alike
– Only sow good seeds and plant healthy, disease-free seedlings.
– Must know the history of the place where the seed is produced. Imported seeds must go through quarantine.
– Before sowing seeds must be treated with chemicals or heat to kill the source of pests later.
Fertilizer
– Do not use fresh manure, diluted manure water to water vegetables.
– Each type of plant has a different fertilizer regime and amount of fertilizer. 15 days before harvest need to stop fertilizing.
– Only fertilizers whose names are on the list of fertilizers permitted to be produced, traded and used in Vietnam, issued by the Ministry of Agriculture and Rural Development and are in effect, are only allowed to be used.
Pest control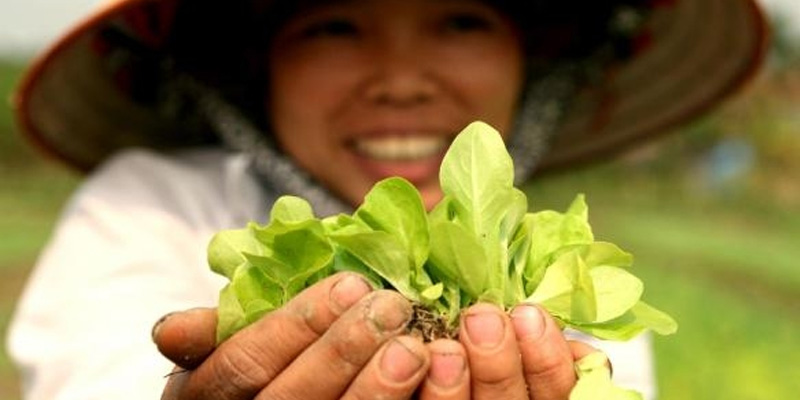 – Do not use chemical pesticides banned for use on vegetables.
– Select drugs with low active ingredients, less toxic to natural enemies (animals or parasites used to kill harmful organisms, protect crops naturally such as dragonflies). , mantis, worms…).
– Prioritize the use of biological products, herbal preparations, and natural enemies for disease prevention instead of chemical drugs to protect the safety of plants, soil, water and surrounding air environment. around.
– Finish spraying at least 5 to 10 days before harvest.
Harvest, pack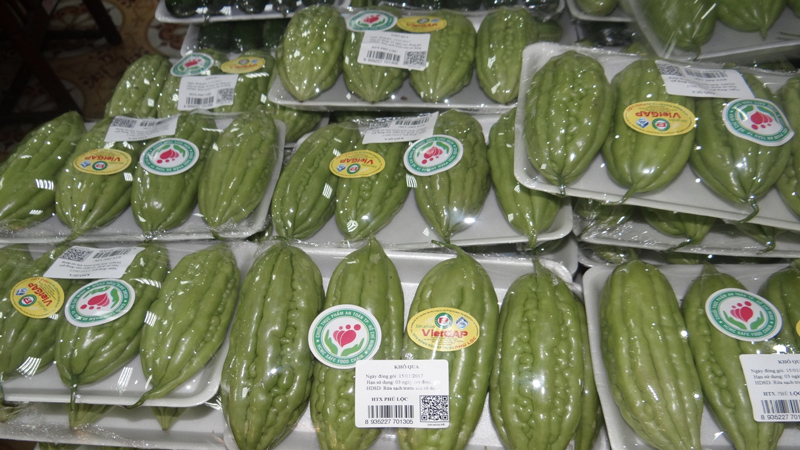 – Vegetables are harvested at the right ripeness, old leaves, wilted, wormy, deformed fruits are removed.
– Vegetables are washed thoroughly with clean water, dried and packed into clean bags. On the packaging, the address of the place of production is clearly indicated to ensure the interests of consumers.
What benefits does VietGAP standard bring to consumers?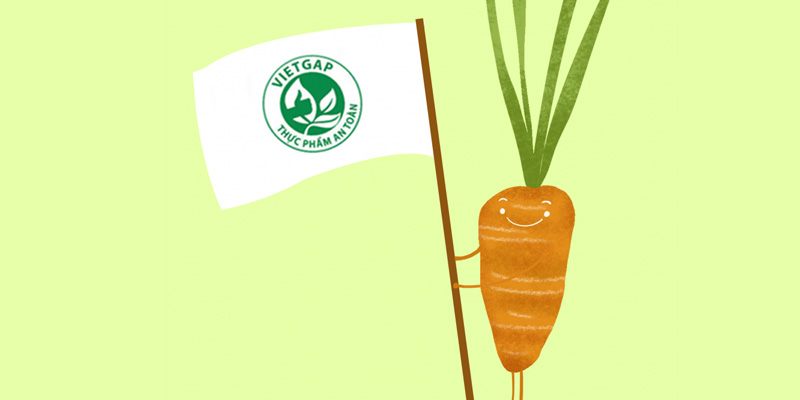 – VietGAP clean vegetables are developed in a safe environment according to regulations, minimizing the abuse of pesticides, chemical fertilizers, growth stimulants, safe for users and protecting the living environment.
Not only that, it is also nurtured based on the natural physiology of the plant variety, cultivated in favorable natural conditions and respecting the natural ecological environment, from which to produce high quality products. The optimal amount of use and nutritional content, literally "clean".
– Vegetables are stored in the store at a temperature of 20 degrees Celsius and the storage time does not exceed 2 days. Safe vegetables can be used immediately without the need to soak in salt water or other cleaning agents.
Understanding VietGAP standards and VietGAP certified products, consumers can rest assured to use products that are not only safe for health but also fresh and nutritious.
Good experience Cfis.edu.vn
Thank you for reading this post What is VietGAP standard and safe vegetable production process? at Cfis.edu.vn You can comment, see more related articles below and hope to help you with interesting information.
Related Search: