You are viewing the article What is tetanus? Who should get tetanus vaccine?  at Cfis.edu.vn you can quickly access the necessary information in the table of contents of the article below.
Tetanus is a disease with a high mortality rate. However, tetanus can now be prevented by vaccination. Learn about tetanus with Cfis.edu.vn and who should be vaccinated against tetanus through the article below!
What is tetanus?
Tetanus is a dangerous and potentially fatal disease caused by the development of exotoxins (Tetanus exotoxins) of tetanus bacteria (Clostridium tetani). The spores of tetanus often appear in animal feces, mud, … enter the body through wounds on the skin.
Tetanus is not seasonal and can be contracted at any time of the year. The toxins released by the tetanus bacteria affect the nervous system, causing muscle spasms and respiratory problems.
Tetanus is the most common and fatal disease in countries in Africa, Asia and South America.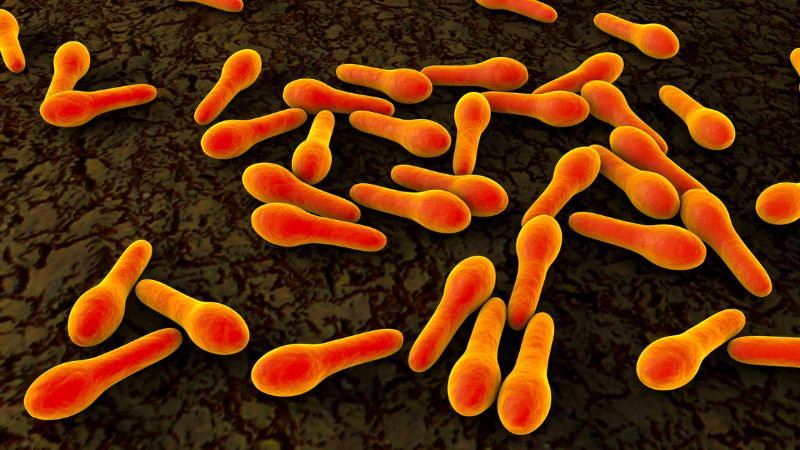 Simulation image of tetanus bacteria Tetanus
Causes and modes of transmission of tetanus
Tetanus bacteria often enter the body through contaminated deep wounds such as mud, animal feces, copper, rusted iron… In fact, there are many cases of infection through pathological diseases. such as otitis media, purulent ear discharge, tooth decay, diabetic ulcers, etc.
There are also cases of pregnant women contracting tetanus after abortion surgery in unsanitary conditions. Newborns contract tetanus because bacteria enter the umbilical cord during birth because the instruments are not clean, or the umbilical cord is not cleaned sterile after cutting.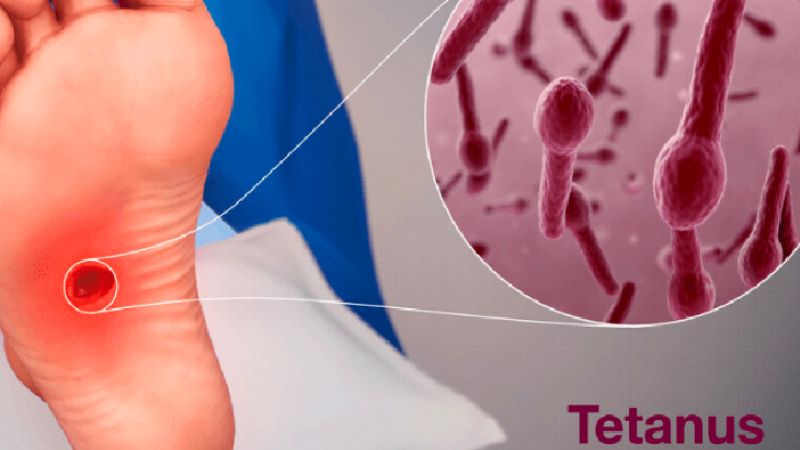 Tetanus bacteria enter the body through deep wounds
Symptoms of tetanus
Symptoms of tetanus are common such as muscle spasticity accompanied by pain, especially common in the facial muscles, chewing muscles, shoulder muscles. For newborns with tetanus, symptoms such as inability to breastfeed, body convulsions after the first 2 days of infection.
The incubation period is about 3-10 days but can also be up to 3 weeks. According to many cases, the shorter the incubation period, the higher the mortality rate. The patient will have muscle twitches and pain that starts in the jaw muscles, then spreads to all other muscles, each episode of muscle spasms and pain usually lasts for a few minutes and manifests as:
Spasticity of the masticatory and facial muscles causes the patient to lose control of the facial muscles.
Spasticity in the muscles of the back of the neck, back, and abdomen, sometimes in the injured area.
For babies, when they have jaw muscle spasms, they will not be able to suckle, cry, then they will have spasms all over the body, fever and diarrhea. There are cases of children contracting muscles to fracture.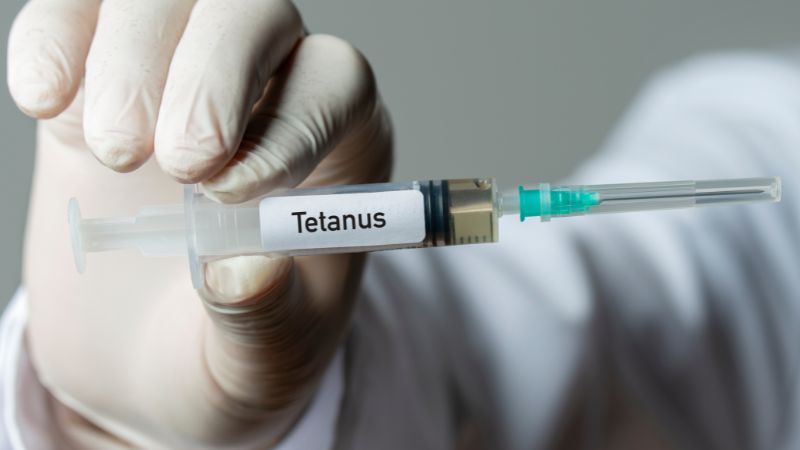 The shorter the incubation period, the higher the mortality rate
In addition, it is necessary to note some complications when contracting tetanus such as:
Fractures: Convulsions and muscle spasms in severe cases can lead to broken bones.
Pneumonia: If you inhale too much stomach secretions during tetanus, it can lead to pneumonia.
Laryngeal spasm: The patient will feel suffocated.
Seizures: If the infection spreads to the brain, a person with tetanus may experience a condition similar to epilepsy.
How to prevent tetanus
Usually, the cost of treatment for tetanus is quite expensive, the degree of recovery also depends on the health status of each patient. According to statistics, the case of mild tetanus treatment that does not require physical intervention, the treatment cost is also about 25-35 million VND.
According to Doctor Bach Thi Chinh – Deputy Medical Director of VNVC Vaccination Center , when there is a wound on the body, it is necessary to wash, disinfect, leave the wound open, and not let the wound be sealed to create a tunnel. , do not put anything on the wound to avoid infection.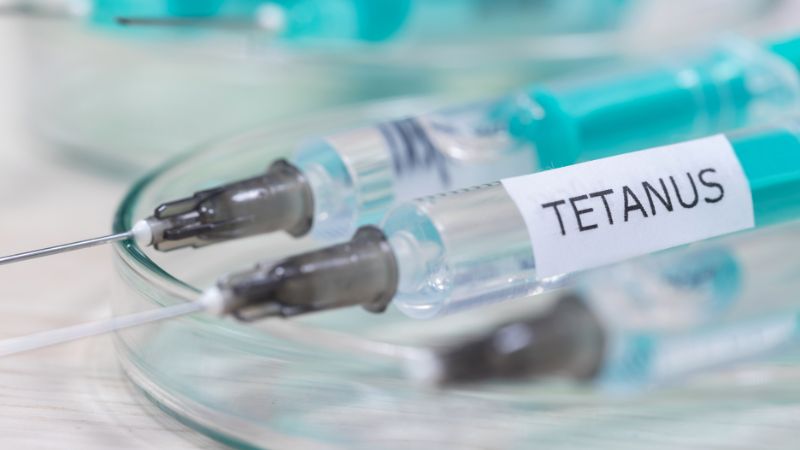 Vaccination is the best way to prevent tetanus
Currently, the best method of prevention is the tetanus vaccine , which is recommended for infants, adolescents, adults, and the elderly. Depending on the country, there will be regulations on the number of tetanus shots, usually after 10 years, a booster shot.
Some frequently asked questions
Who should get the tetanus vaccine?
Vaccination against tetanus is necessary for everyone, but the vaccine does not produce lifelong antibodies, so it needs to be re-vaccinated at regular intervals. The following groups of people are essential for tetanus vaccination:
Pregnant women: Tetanus vaccination is essential to ensure the safety of both mother and baby. According to current statistics, neonatal tetanus infection has a mortality rate of 90%. In addition, pregnant women are also susceptible to tetanus during skin transfer because the instruments are not thoroughly disinfected.
Farmers: People who work in direct contact with mud, animal manure, poultry manure, etc., are at high risk of contracting tetanus.
Construction workers: In the process of working, they are easily injured, exposed to a lot of dirt, metal, and steel, so they need to be vaccinated against tetanus to ensure safety.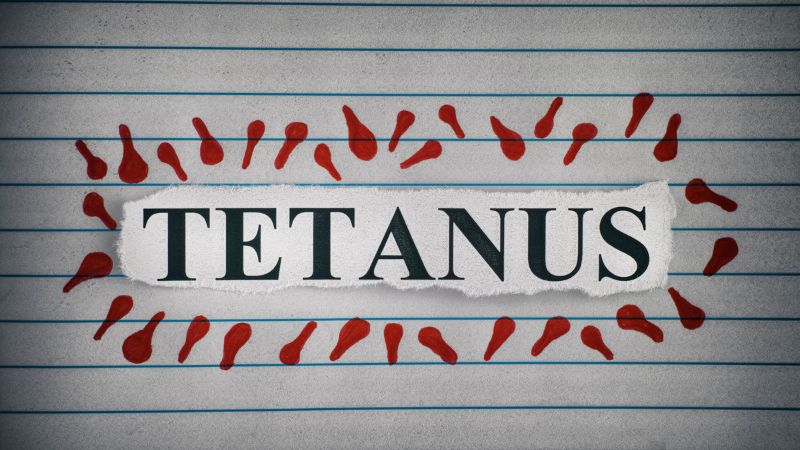 Get vaccinated against tetanus to ensure your body's safety
When should tetanus vaccine be given?
In the period of 2-4 months, infants will receive the first 3 doses of the vaccine, and at 18 months will receive a booster dose.
Women of childbearing age from 15 to 35 years old , although vaccinated at a young age, the tetanus vaccine does not produce lifelong antibodies, so it is necessary to get a booster shot to ensure safety.
Above is information about tetanus and who should get tetanus vaccine. Cfis.edu.vn hopes the above article will be useful to you.
Source: VNVC vaccination center
Buy fresh fruits of all kinds at Cfis.edu.vn to improve health and increase resistance:
Cfis.edu.vn
Thank you for reading this post What is tetanus? Who should get tetanus vaccine? at Cfis.edu.vn You can comment, see more related articles below and hope to help you with interesting information.
Related Search: