You are viewing the article Learn how to make stir-fried mini cabbage with scallops for family meals  at Cfis.edu.vn you can quickly access the necessary information in the table of contents of the article below.
Stir-fried dishes are not only delicious but also a great way to incorporate healthy vegetables into your family meals. In this recipe, we will teach you how to make a delectable stir-fried mini cabbage with succulent scallops, creating a dish that is sure to impress your loved ones. Packed with flavors and textures, this recipe strikes the perfect balance between tender cabbage and perfectly cooked scallops. By following these simple steps, you can easily create a wholesome and tasty meal that will become a favorite for family gatherings or weekday dinners. So, let's dive into the world of stir-frying and learn how to create this delightful dish together!
Prepare
10 Minutes Processing
30 Minutes For
4 persons
Stir-fried mini cabbage with scallops is a dish that not only has high nutritional value, but their taste is also extremely delicious. Today, let's go to the kitchen with Cfis.edu.vn and learn how to make this delicious dish.
Ingredients for stir-fried mini cabbage with scallops
400g scallop meat
300g mini cabbage
1 carrot
3 cloves of garlic
Seasoning: Sugar, salt, cooking oil, oyster sauce, seasoning, onion powder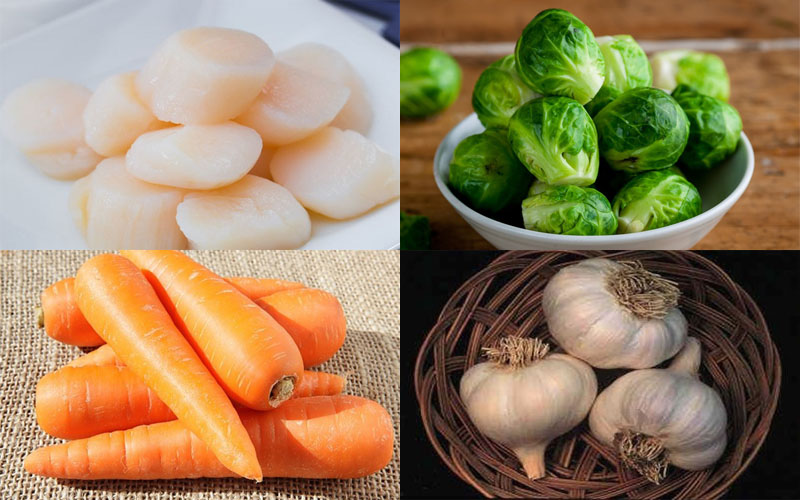 Ingredients for stir-fried mini cabbage with scallops
Good tip

When choosing to buy pre-shelled scallops, you should choose one that has a fresh smell, firm flesh and a slightly clear color. Pay attention to the expiration date and origin printed on the packaging to avoid buying poor quality products.
For live scallops, you should choose those that have a tight but not completely closed shell, the tongue sticks out, when lightly touched, there is a closed reaction. Choose the right size, not too big, not too small.
Delicious mini cabbages are those that are intact, hard and have a characteristic green color, the skin is not scratched or crushed. When you touch the cabbage, it feels soft or oozing, you should not buy it.
How to make fried mini cabbage with scallops
Step 1Process materials
When you buy scallop meat, use a little salt to rub it around to clean it, then wash it with water. Cut the scallops into bite-sized pieces or leave as you like.
Mini cabbage you cut off the stem and peel off the outer layer of wilted leaves . Put the cabbage in a bowl of dilute salt water for about 5-10 minutes , then take it out, rinse it with water and then drain.
Carrots are peeled, washed and cut into bite-sized chunks. You can prune flowers for carrots to make the dish more beautiful.
Peel the garlic, wash and mince it.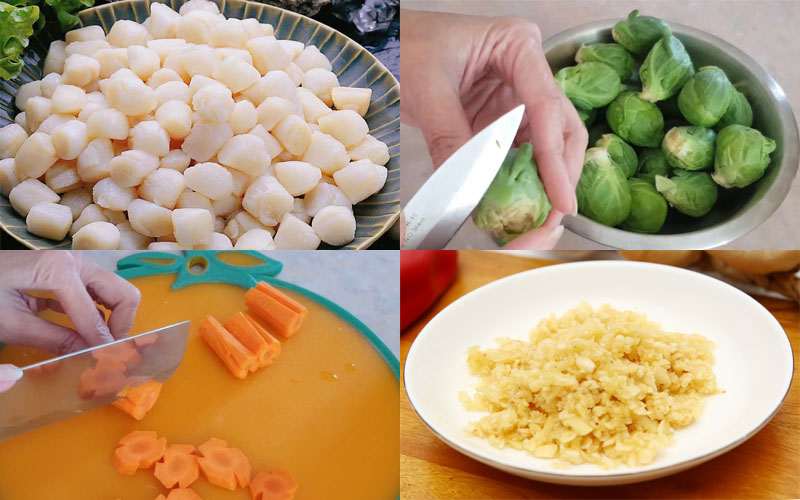 Process materials
Note

If you can't find ready-made scallops, you can buy raw scallops and prepare them yourself. The way to prepare scallops is also very simple.
Carrots you should not cut too thin to avoid after stir-frying will be easily crushed and not delicious.
Step 2Blanch the ingredients
Put the mini cabbage in a pot of boiling water with ½ teaspoon of salt , boil for about 2 minutes.
Next, you add carrots, boil both for 1 more minute , then turn off the heat. After boiling, take out the cabbage and carrots, and place them in a bowl of ice cold water to keep the ingredients crispy.
After preparing the scallop meat, you put it in a pot of boiling water to boil it. Boil until the water boils again, then turn off the heat. While boiling, remember to stir a few times with chopsticks from time to time.
Remove the scallops and vegetables to the basket, drain.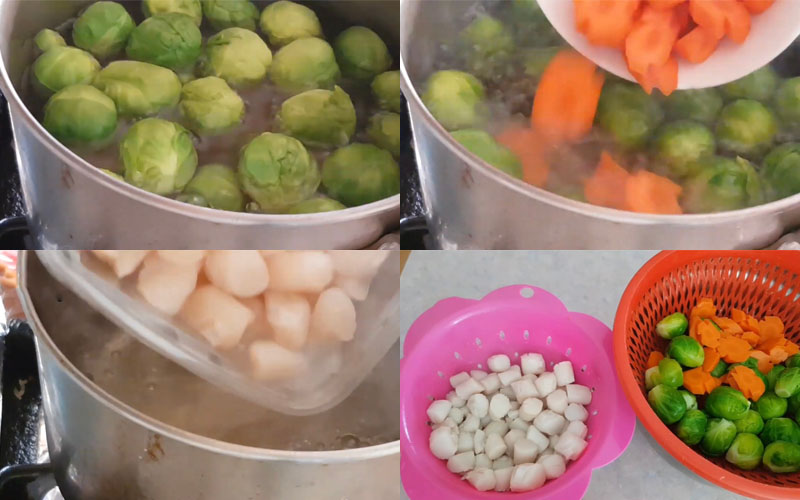 Blanch the ingredients
Step 3Stir-fry mini cabbage with scallops
Put 1 tbsp cooking oil in a pan, bring to a boil. When the oil is hot, add about 1 teaspoon of minced garlic and sauté until fragrant. Next, you put all the mini cabbage into the pan with 2 teaspoons oyster sauce, 1/2 teaspoon seasoning seeds . Stir the mixture evenly.
Next, add the scallop meat, add 1/2 teaspoon of onion powder , continue to stir-fry until the mixture is fully spiced. Finally, you add the chopped carrots, stir for about 1 more minute, then turn off the heat, put on a plate to complete the dish.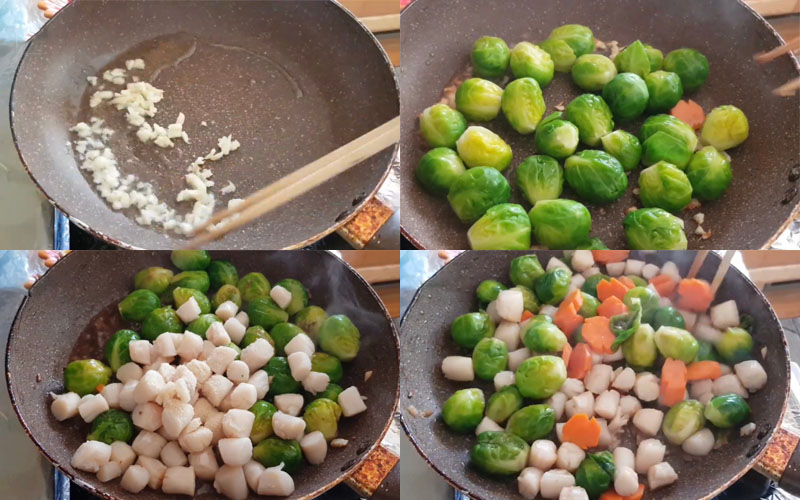 Stir-fry mini cabbage with scallops
Note
You should not fry the scallops for too long to avoid the scallops being chewy and losing their sweetness.
The vegetables have also been boiled before, so you only need to stir-fry them briefly.
Finished product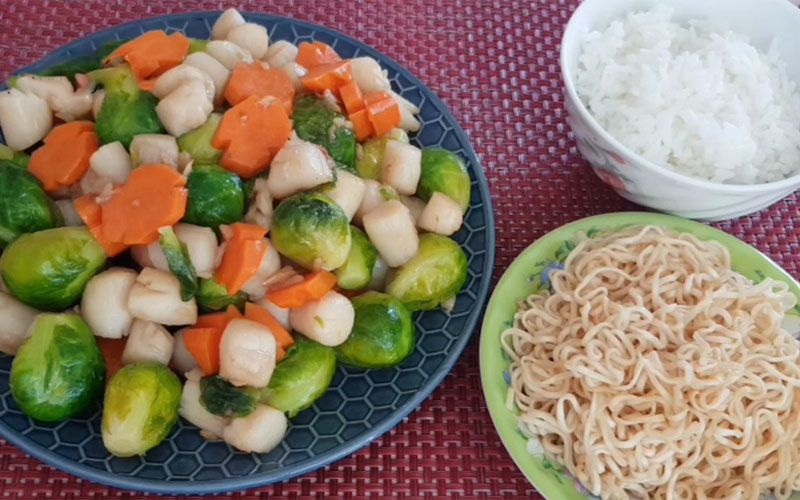 Stir-fried mini cabbage with scallops is delicious and attractive
With just a few simple steps, you have a plate of delicious mini cabbage stir-fried with scallops. Scallop meat is soft and chewy combined with mini cabbage and sweet crispy carrots, all blended to create an attractive and eye-catching dish. This dish is great with noodles or white rice.
Recently, Cfis.edu.vn introduced to you how to make mini cabbage stir-fry with scallops for family meals. Hope you will make this dish successfully!
Cfis.edu.vn
In conclusion, learning how to make stir-fried mini cabbage with scallops is a wonderful addition to any family's meal repertoire. This dish combines the health benefits of cabbage with the deliciousness and nutritional value of scallops. Not only is it a simple and quick recipe to prepare, but it also offers a wide range of flavors and textures that will please even the pickiest eaters. By incorporating this dish into your family meals, you are not only providing a tasty and nutritious option, but also exposing your loved ones to new and exciting flavors. So, gather your ingredients, sharpen your kitchen skills, and embark on this culinary adventure to create a delightful dish that will surely become a family favorite.
Thank you for reading this post Learn how to make stir-fried mini cabbage with scallops for family meals at Cfis.edu.vn You can comment, see more related articles below and hope to help you with interesting information.
Related Search:
1. Easy stir-fried mini cabbage with scallops recipe
2. Family-friendly stir-fry recipes with scallops
3. Quick and healthy cabbage and scallop stir-fry
4. Step-by-step guide for making stir-fried cabbage with scallops
5. Delicious and nutritious stir-fried mini cabbage and scallops
6. Flavourful stir-fry recipe using mini cabbage and scallops
7. Beginner-friendly recipe for stir-fried cabbage and scallops
8. Family meals: Stir-fried cabbage and scallops for dinner
9. Creative ways to cook mini cabbage and scallops for family meals
10. Asian-inspired stir-fried cabbage with scallops recipe