You are viewing the article How to make super delicious dragon fruit sweet bread at home  at Cfis.edu.vn you can quickly access the necessary information in the table of contents of the article below.
Dragon fruit sweet bread is a delectable and unique dessert that combines the tropical flavors of dragon fruit with the comforting goodness of homemade bread. Bursting with vibrant colors and a delightful sweet taste, this bread is a real treat for the senses. Whether you have a special occasion to celebrate or simply want to indulge in a delightful homemade dessert, this recipe is sure to satisfy your cravings. In this guide, we will walk you through the step-by-step process of making super delicious dragon fruit sweet bread right in the comfort of your own home. So put on your apron, gather your ingredients, and get ready to embark on a culinary adventure that will leave you wanting more.
To make this cake, we will use red flesh dragon fruit instead of white flesh dragon fruit. Although they are the same dragon fruit, they have completely different properties. In red flesh dragon fruit contains all the necessary micronutrients for the body such as vitamins C, A, Protid, Lycopene, Glucid, … and many other minerals. They help metabolize substances, balance the body's activities as well as reduce the production of some harmful oxidants. Not only that, for every 100g of red flesh dragon fruit, it will provide 40 calories and 87.6% water, support moisturizing and make skin smoother, reduce dry cracking, horny aging, aging, keep skin healthy. Skin looks youthful, full of vitality.
Ingredient
300g red dragon fruit

500g flour number 11

5g of yeast

50g unsalted butter, chopped

Seasoning: 60g sugar, 5g salt, 10ml condensed milk
How to make sweet dragon fruit bread
Step 1Process materials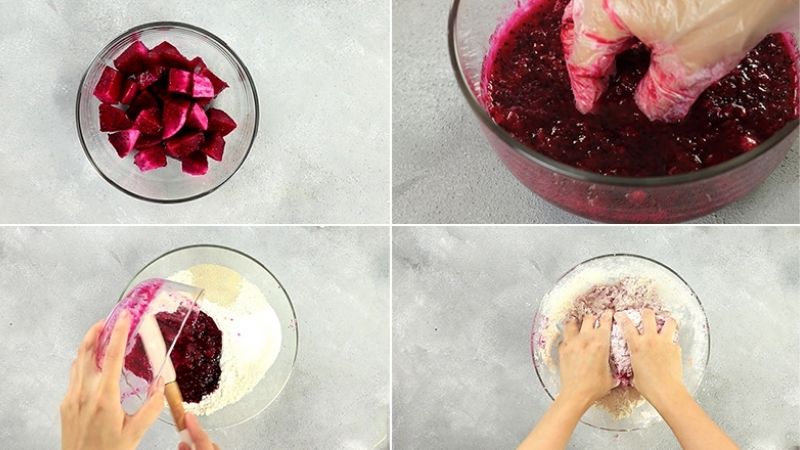 Preparation of ingredients for making dragon fruit bread
First, we peel and cut the dragon fruit, then put it in a bowl and squeeze it with our hands. Then, prepare another large bowl, add the prepared ingredients: flour, salt, sugar, yeast, condensed milk and dragon fruit mixture. Finish mixing to form a homogeneous mass. If you like it sweeter, adjust the amount of sugar yourself.
Step 2Dough stuffing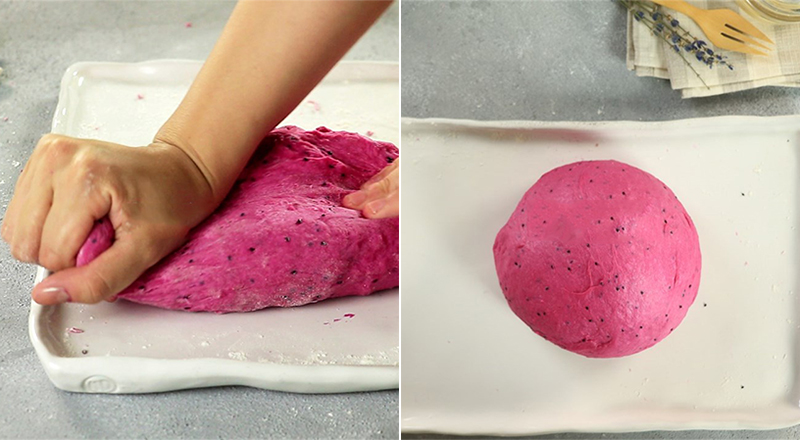 Place the dough on the table, then add unsalted butter and knead the dough. We will knead until they are tough, no longer sticky, elastic and can be pulled into a thin film, then stop.
Step 3Rolling and tempering the dough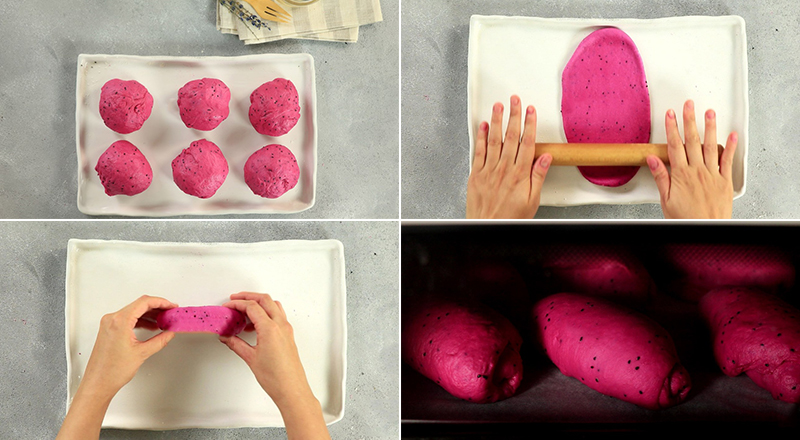 We will divide the dough mixture into 6 round parts about 120g / part. Then, roll the dough out with a stick, then roll it up and fold the two ends to form a long bread. Next, spend about 2 hours incubating until they have doubled in size.
Step 4Bake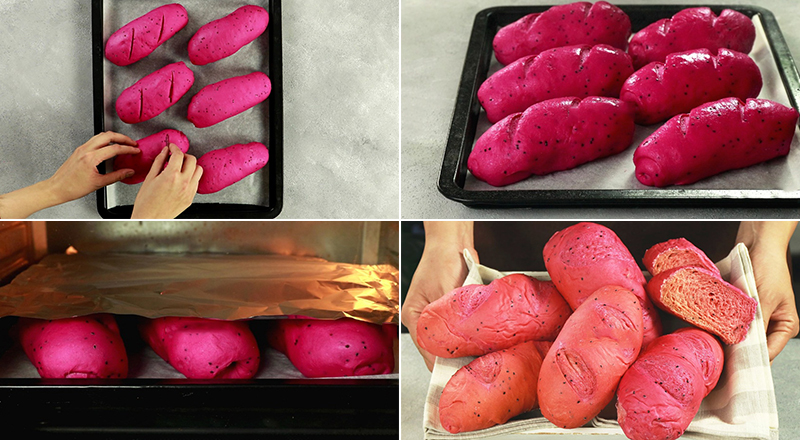 First, set the oven to 190 degrees Celsius to heat up. At this time, we also make even slits on the surface of the cake to create a pattern, then spray with water to moisten, then immediately put it in the oven for about 5 minutes. Then, open the oven and spray a second time, while covering the top of the cake with foil to prevent scorching. Finally, lower the temperature to 170 degrees Celsius and bake for another 20 minutes and you're done.
Finished product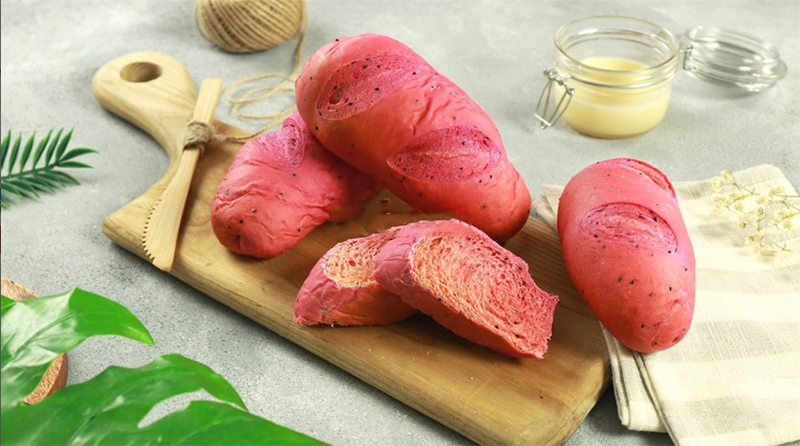 The dragon fruit bread will have a rich, fragrant pink-red color, especially sweet and flexible than normal bread. When eating, we will feel a very pleasant taste from that natural fruit. We can also dip it with condensed milk or eat it with pâté, sausages, etc., just like regular bread.
See more: How to make delicious pastries, the whole family is sure to love and easy to do.
With the way to make sweet dragon fruit bread above, you will be able to make it right at home. So attractive, why don't we quickly save the recipe and show off our talents to join hands to "rescue" dragon fruit with Vietnamese farmers.
Good experience Cfis.edu.vn
In conclusion, making super delicious dragon fruit sweet bread at home is a simple and rewarding process. By following a few key steps, such as selecting ripe dragon fruit, preparing a flavorful dragon fruit puree, and incorporating it into a well-balanced bread dough, one can create a delightful treat that is both visually appealing and incredibly tasty. Moreover, experimenting with different variations, such as adding nuts or chocolate chips, can further enhance the flavor profile of the bread. Whether enjoyed on its own or as part of a breakfast spread or an afternoon snack, dragon fruit sweet bread is a wonderful way to showcase the unique flavor and vibrant color of this tropical fruit. By following this recipe, individuals can create a homemade treat that is sure to impress both friends and family. So, don't hesitate to try your hand at making this enchanting dragon fruit sweet bread and indulge in its mouthwatering goodness.
Thank you for reading this post How to make super delicious dragon fruit sweet bread at home at Cfis.edu.vn You can comment, see more related articles below and hope to help you with interesting information.
Related Search:
1. Dragon fruit sweet bread recipe
2. Easy homemade dragon fruit bread
3. Best dragon fruit bread recipe
4. Step-by-step instructions for dragon fruit sweet bread
5. Dragon fruit bread with a twist
6. Delicious dragon fruit bread variations
7. Tips for making flavorful dragon fruit sweet bread
8. Dragon fruit bread with a gluten-free option
9. Creative dragon fruit bread fillings and toppings
10. Dragon fruit bread: a perfect treat for any occasion