You are viewing the article How to make Natto – fermented soybeans at home simple, no straw needed  at Cfis.edu.vn you can quickly access the necessary information in the table of contents of the article below.
Natto, a traditional Japanese dish made from fermented soybeans, has gained popularity worldwide for its unique taste and numerous health benefits. This nutritious food is not only rich in protein, vitamins, and minerals but also contains beneficial enzymes and probiotics that promote gut health. While traditionally prepared using straw to achieve fermentation, there is a simpler method to make natto at home without the need for straw. In this guide, we will explore easy and straightforward steps to create delicious homemade natto, allowing you to enjoy its distinct flavor and nutritional excellence without any complicated equipment or techniques. So, let's dive in and explore the world of homemade natto, making it a delightful addition to your culinary endeavors and a nutritious addition to your daily diet.
Natto (fermented soybeans) is a traditional delicacy in the culinary culture of the country of cherry blossoms. Made by natural fermentation from Bacillus beneficial bacteria, spent 1 day 1 night (24 hours) at 40 degrees Celsius to ripen. Natto therefore has extremely high nutritional value with a variety of mineral content such as: Vitamin K2, Protein, Calcium, Magnesium, Omega, … very good for the digestive tract, contributing to longevity. This dish is loved by most of the locals, especially in the Kanto and Tohoku areas. Maybe you will also "fall in love" with natto when enjoying it, let's get to work quickly.
Ingredient
250g soybeans (soybeans)
7-10g natto (can be purchased at stores, supermarkets, e-commerce sites specializing in Japanese goods)
1 liter of water
Seasoning: Salt.
Tools: Pressure cooker (if you have one, you can use a normal pot if you don't), foil, heat preservation foam box, 9W light bulb.
How to make fermented soybean
Step 1: Prepare ingredients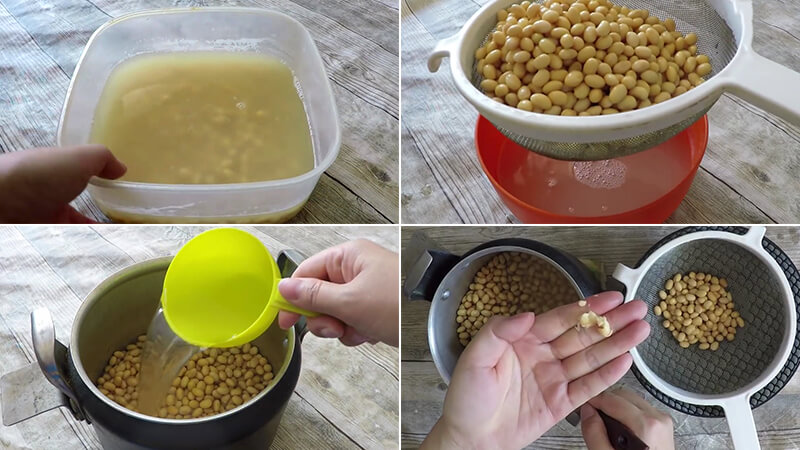 First, soak the soybeans in a bowl of water (submerge the beans) for about 22-24 hours . Then, filter through a sieve, take the beans and cook in a pressure cooker with 1 liter of water. When the water boils, cook for another 35-40 minutes with low heat . To check, we can squeeze a seed, if it is easy to squeeze, the bean is already cooked.
Step 2: Make natto seasoning to marinate soybeans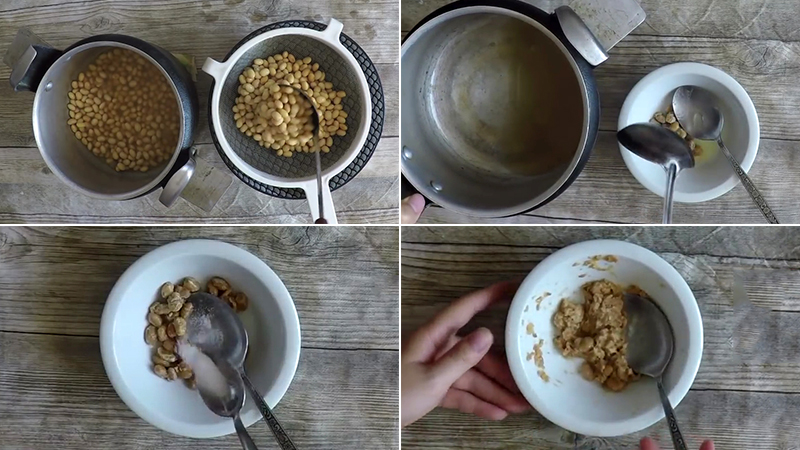 Ladle the cooked bean mixture into a sieve, keep the water, and drain the beans. Then, put the natto, 1/3 teaspoon salt, 1 tablespoon bean cooking water (still warm) into the cup, then use a spoon to mix and mash.
Step 3: Seamless soybeans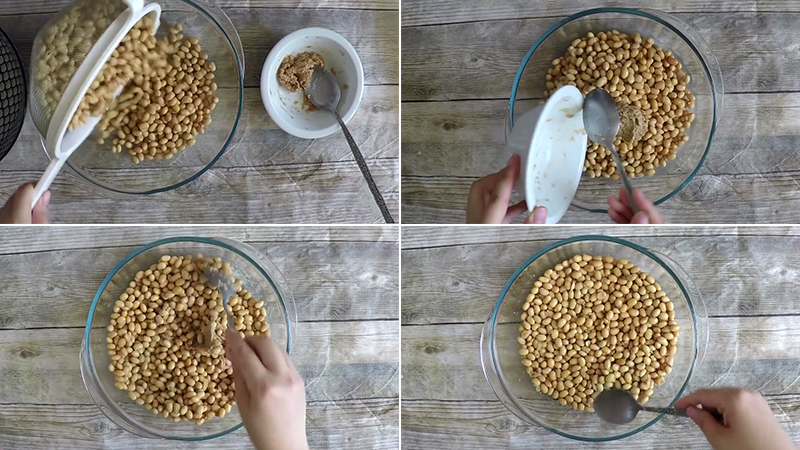 Place the beans (still warm) and the natto seasoning in a bowl and mix well. After that, spread the beans flat, about 2-3cm thick, don't be too thick.
Step 4: Incubate soybeans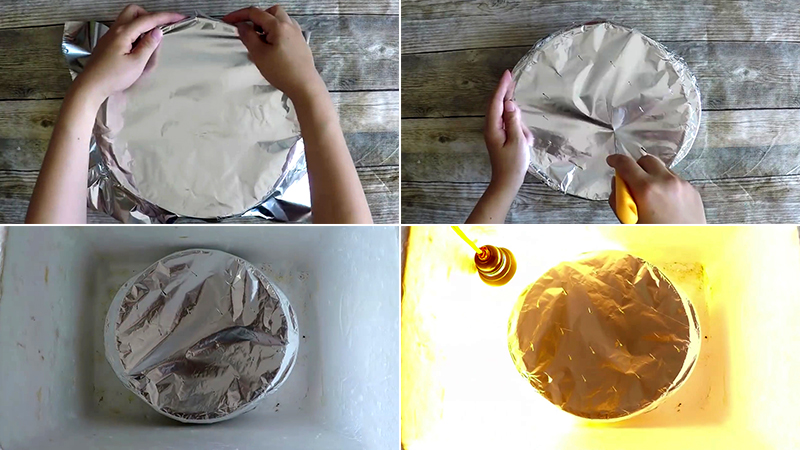 Cover the mouth of the bowl with foil, then use a knife to poke a few small holes in the foil. When finished, place the bean bowl in a heat-retaining foam box, then turn on the 9W light bulb (to the side) to warm it up.
After that, close the lid of the Styrofoam box, but only loosely, do not close it. We will incubate for about 22-24 hours with a stable temperature (37-47 degrees Celsius). So that's it then. After the incubation period, keep it in the refrigerator for about 4-5 days to reduce the smell and then freeze it for later use.
Finished product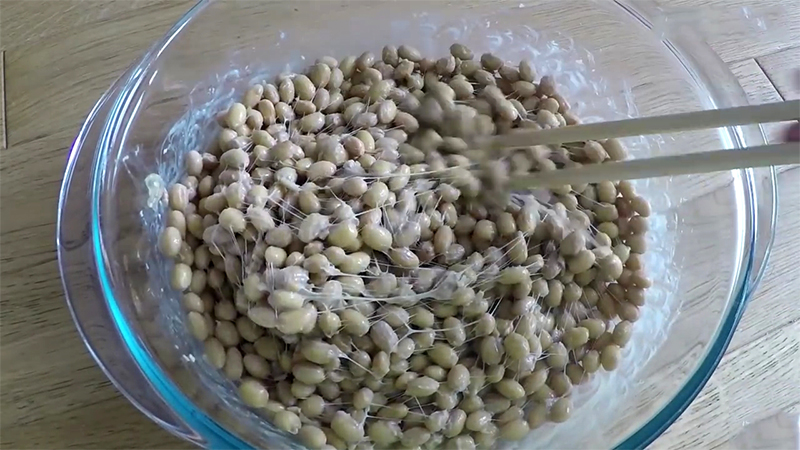 Standard fermented soybeans are highly sticky and have many silk threads like spider silk. They are long lasting and possess a rather strong taste. Some people who are not familiar will say the smell is unpleasant. And when you get used to it, you will find that the beans have a fatty, fatty taste, very delicious and have a taste similar to cheese.
Fermented soybeans (natto) may not be popular in our country, but with a simple implementation and high nutritional value, you should give it a try. This dish is guaranteed to be a new and unique choice when you want to "breathe a breath of fresh air" for the family meal tray.
See more:
>> How to make delicious soy sauce at home
>> Soybeans are good, soybean sprouts are ten thousand times better
>> How to use and store home-cooked soy milk effectively
Come to the nearest Cfis.edu.vn supermarket to buy delicious ingredients for cooking!
Cfis.edu.vn
In conclusion, making Natto, the popular Japanese dish of fermented soybeans, at home is a simple and rewarding process that does not require the use of a straw. By following a few basic steps, anyone can experience the unique flavors and health benefits of homemade Natto. Initially, soak and cook soybeans until tender, which promotes better fermentation. Next, inoculate the beans with Natto starter or previously made Natto to introduce the necessary bacteria for fermentation. After sealing the beans in an airtight container, keep them in a warm and humid environment for around 24-48 hours, allowing the fermentation process to take place. Once fermented, refrigerate the Natto to halt the fermentation process and ensure its longevity. Apart from being a key ingredient in many traditional Japanese dishes, Natto also offers numerous health benefits due to its high protein and probiotic content. By preparing Natto at home, individuals have full control over the ingredients used, ensuring a healthier and customized final product. With a little patience, experimentation, and adherence to food safety practices, making Natto in the comfort of your own kitchen can be an enjoyable and delicious culinary endeavor.
Thank you for reading this post How to make Natto – fermented soybeans at home simple, no straw needed at Cfis.edu.vn You can comment, see more related articles below and hope to help you with interesting information.
Related Search:
1. Step-by-step guide: Homemade natto recipe without using straw
2. Easy natto recipe: Fermenting soybeans at home without any special equipment
3. Quick and simple method to make natto at home without a straw
4. DIY natto: A beginner's guide to making fermented soybeans easily
5. Natto-making made easy: No straw required recipe for beginners
6. Simplified natto recipe: Making fermented soybeans at home without straw or fancy tools
7. Hassle-free homemade natto: Simple method without straw for first-timers
8. No straw, no problem: Easy natto recipe for DIY enthusiasts
9. Making natto without straw: Simple tips and tricks for successful fermentation
10. Foolproof method: How to make natto at home with minimal ingredients and no need for a straw