You are viewing the article 3 ways to make milk glue, simple glue with easy-to-find ingredients  at Cfis.edu.vn you can quickly access the necessary information in the table of contents of the article below.
Making homemade glue can be a fun and cost-effective alternative to store-bought options. If you're looking for a simple and easy-to-find ingredients to make glue, look no further than your refrigerator. Milk glue, also known as casein glue, is a fantastic adhesive that can be made using just a few basic household ingredients. In this article, we will explore three simple methods to create milk glue, allowing you to engage in various arts and crafts projects without breaking the bank. Whether you're a parent looking for a safe glue option for your children or a hobbyist looking to explore different adhesive options, these three methods will surely provide you with a practical and budget-friendly solution.
Milk glue and glue are now sold a lot on the market, but making "hand-made" glue and milk glue is not only a very interesting experience but can also be a lifesaver when you need to paste something. rush without running to buy. The following article of Cfis.edu.vn will guide you to make milk glue, glue from ingredients that are easy to find at home, cheap and non-toxic. Let's find out together!
Make milk glue from milk, vinegar and baking soda
Milk glue is a familiar and popular art craft item because of its safety . Interestingly, milk glues, as their name suggests, are based on the main ingredient casein , a protein found abundantly in milk to form the glue.
You can make your own milk glue by cooking 3 easy-to-find ingredients: milk, vinegar and baking soda (baking powder).
Preparation materials include: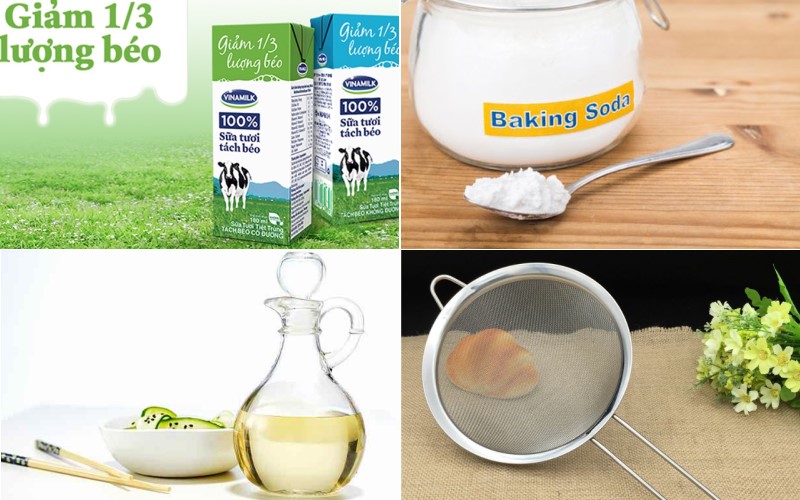 240 ml fat-free milk. Nonfat milk contains the most protein, especially casein, and will give a higher binding effect.
Vinegar, water
Baking soda
Necessary tools: Filter, container
How to do it encapsulates in 7 steps as follows:
– Step 1 : Heat 240ml of fat-free milk with sufficient heat until the milk turns warm.
– Step 2 : Add about 15ml of vinegar to the pot of boiling milk, vinegar will help separate the curd from the whey. Cook over medium heat until lumps form, keep the heat on the stove until the mixture boils, taking care to stir well to avoid burning.
– Step3 : Stir for about 3 minutes until the mixture turns into a more solid lump, this is the curd.
– Step 4 : Continue to use the filter to filter the above curd mixture. At that time, the curds will be trapped and the liquid whey will flow down the bowl.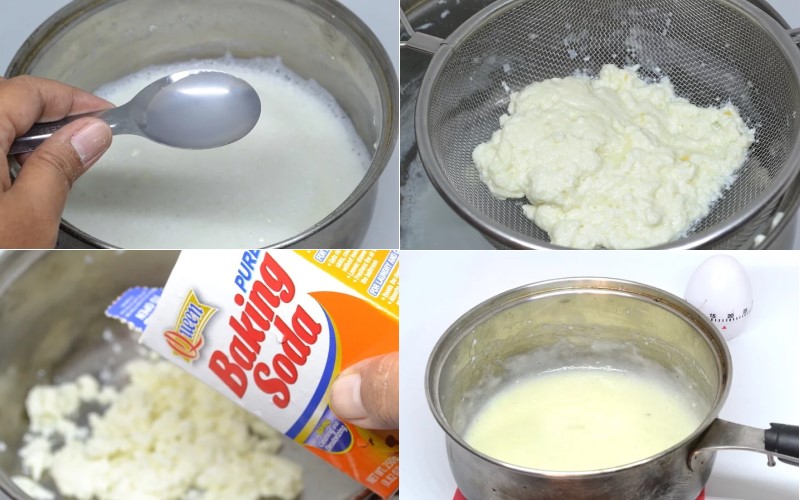 – Step 5 : Continue to boil the curd with all the whey on the pot, add about 15 grams, or 1 teaspoon of baking soda, and a little water. Cook and stir the mixture for about 1-2 minutes until it comes to a boil, then turn off the heat.
– Step 6 : Check if the glue is not sticky, thin, add a little more baking soda, turn on the stove to continue cooking and stir well.
– Step 7 : After the glue mixture has boiled and achieved the desired stickiness , turn off the heat and let the mixture cool down to room temperature.
After the glue has cooled you can use them. Use a brush or brush to sweep over the pieces of paper to stick. Milk glue has adhesion for 24 hours . You can store the glue in a jar and store it in a cool place for later use.
Glue making with flour
The traditional method of making paste is from flour. This type of glue is easy to make and has a very long stickiness , but you must also pay attention to the fact that flour paste dries very quickly.
The method is not too complicated, first you need to prepare the following ingredients: 2 small cups of flour and 3 small cups of water.
How to make paste from flour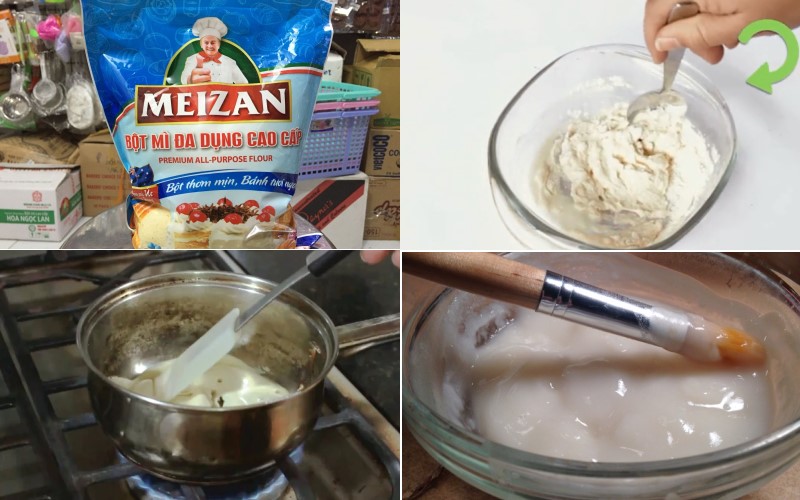 – Step 1 : Mix flour and water in a ratio of 2:3 , stir the mixture well by hand until the mixture is as smooth as cake flour. Note that the dough should not be too thin or too thick.
– Step 2 : Put the pot on the stove to boil the mixture on medium heat , stirring constantly. When the mixture starts to boil, remove from the heat and let the mixture cool down.
– Step 3 : After the glue has cooled, you can immediately use it for manual pasting.
Flour paste has absolutely no preservatives, so it can go moldy . To keep the lake for a long time, you should store it in an airtight container, store it in the refrigerator. The time to use the lake is from one to two weeks. If the lake is dry, add a little warm water and stir well to use again.
Making paste with tapioca starch
In addition to making paste from flour, you can also use tapioca flour for the same adhesive effect. Ingredients for preparation: 3 small cups of tapioca starch, 2 small cups of water, half a lemon.
Proceed as follows: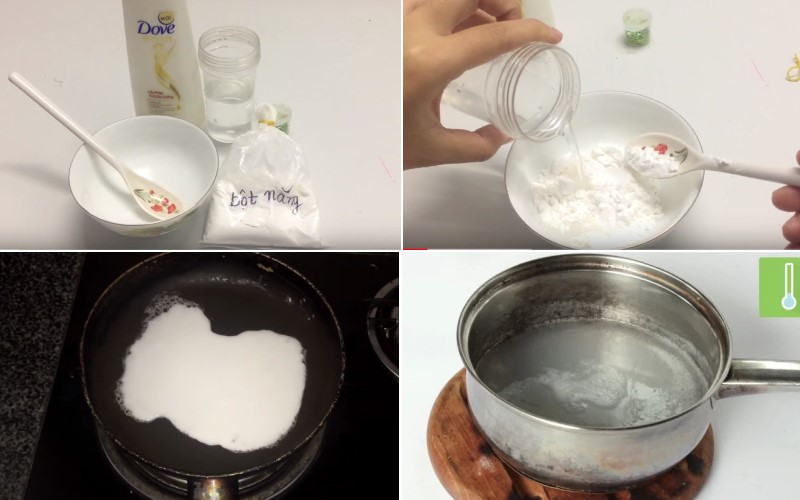 – Step 1 : Mix tapioca flour and water in a ratio of 3:2 , then add lemon juice, stir the above mixture until smooth. Be careful not to let the mixture get too dry or too liquid.
– Step 2 : Put the pot on the stove and heat the flour mixture with low heat , stirring constantly for about 1-2 minutes until the mixture thickens.
– Step 3 : Turn off the stove but still stir well so that the mixture does not thicken, then pour into a bowl.
Tapioca paste has good stickiness and can be used immediately. The shelf life of the glue is from 1-2 days . To preserve the glue longer, pour it into a jar and store it in the refrigerator.
Above are some tips for making glue, milk glue from familiar ingredients such as milk, baking soda, tapioca flour and flour, which are both quick, effective and non-toxic. Cfis.edu.vn wishes you success!
See more:
>> How to make a water bottle from watermelon
>> How to make a mouse trap without bait
>> How to make simple laundry detergent at home
Good experience Cfis.edu.vn
In conclusion, making milk glue can be a simple and cost-effective solution for various crafting and household needs. By utilizing easy-to-find ingredients and following a few basic steps, one can create adhesive substances using milk. The three methods discussed – vinegar or lemon juice, baking soda, and heat – offer versatile options for individuals to experiment with and adapt according to their specific requirements. Whether it's for school projects, arts and crafts, or simple repairs, milk glue can be a convenient and environmentally friendly alternative to store-bought glue. Moreover, it provides an opportunity to explore creative DIY solutions while minimizing the use of harmful chemicals. So, next time you find yourself in need of glue, consider reaching for that carton of milk in your refrigerator and indulge your inner crafter with these three simple methods of making milk glue.
Thank you for reading this post 3 ways to make milk glue, simple glue with easy-to-find ingredients at Cfis.edu.vn You can comment, see more related articles below and hope to help you with interesting information.
Related Search:
1. Milk glue recipe using only milk and vinegar
2. Homemade milk glue tutorial for kids
3. Step-by-step guide to making milk glue with common household items
4. Easy milk glue recipe with flour and milk
5. DIY milk glue: 3 simple ingredients you already have at home
6. How to make milk glue with baking soda and milk
7. Milk glue recipe without vinegar or baking soda
8. Homemade glue using milk and cornstarch
9. Is milk glue edible? Safe and non-toxic milk glue recipe
10. Milk glue vs. traditional glue: a comparison of effectiveness and applications